The Calling
Everything from fragmented mannequin limbs, wax, human hair and tree trunks to metal, mirror and mortar has found its way into the intricate and ingenious sculptures of Alexandra Bircken. Underpinned by her background in fashion (Alexandra studied at Central St. Martin's in London) and a love of handcrafts, these riotous constructions are brought to life at her studio in Cologne, where, if you really want to reach her, you're best to try by phone. This time, Alexandra picks up to answer The Calling.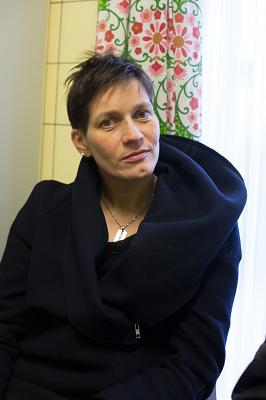 Alexandra Bircken
---
Richard: Was it a vast feat, installing your new exhibition at Studio Voltaire?

Alexandra: Yes, it's monumental! The piece mirrors the ceiling of the Victorian church where Studio Voltaire is set and it looks like the framework of an upturned ship's hull. We worked with master boat-builders to realise it.

R: If you were to draw me a pie chart of an average day, what activities take up the biggest share and the smallest?
A: The day-to-day organisation of my studio takes up a big share of my time, along with generating new ideas. I think being a sculptor is very different from other fine art practices because you don't often sit in front of a canvas and respond to it. It's very much making something up that doesn't physically exist yet.

R: Describe your studio to me.
A: It's a 90 square metres space located in a former leather factory in Cologne. There are wide industrial shelving units with various materials and tools organised in large plastic transparent containers, like the ones you get in D.I.Y. shops. I started out studying fashion so I still have an affinity for textiles. So there's lots of wool, leather and bolts of fabrics. There are also some sewing machines, a router and a welding unit.
R: What is the last thing you do before you leave the studio for the day?
A: I photograph what I'm working on so that I can look at it at home later that night.
R: Is it just you in the studio?
A: No, I sometimes work with one or two assistants.
R: Are you a good manager?

A: My practice is very instinctive so sometimes it can be difficult to manage them. I give guidance and instruction, but that doesn't always free up my head space as much as I would like it to. Often my work doesn't allow outside input; mistakes happen and they can be great so you have to be able to react to things like that. More often though, I seem to end up doing emails and my assistants get to do the fun stuff.

R: What's your relationship like with email?

A: I find it so unproductive. There are people out there who just sit at a desk and bombard you with questions all day long! It can be so disruptive to getting any actual work done. I prefer a telephone call; it's much quicker.

R: And personal, real. What was your first encounter with sculpture?
A: I think it was the body. Working in fashion for many years was a training for sculpture – fashion's living sculpture. Art doesn't have the same functional qualities as fashion, but something that's worn on the body is very much sculptural.

R: If you hadn't become a sculptor or fashion designer what else would you have done?
A: I'd have become a surgeon. I'm fascinated by dissecting objects and exploring inside, which I do a lot in my work. As a surgeon you can just get in there and have a look around.


---
February 2018. Interview by Richard O'Mahony. Portrait by Wolfgang Tillmans, courtesy of Alexandra Bircken. Mammal runs at Studio Voltaire, London, until 13 May 2018.